Lai Ching-te, vice president of Taiwan and presidential candidate of the ruling Democratic Progressive Party (DPP), speaks at a news conference in Taipei. Reuters
Taiwanese Vice President Lai Ching-te, the frontrunner in next year's elections, said the people of the island nation must choose between democracy and "embracing China".
The question of China, which claims Taiwan as its own territory, is of great importance in the run-up to the presidential and legislative elections on January 13, especially as Beijing has intensified its military pressure against the island.
Lai, vice president and a member of the ruling Democratic Progressive Party (DPP), is running for president and has led most opinion polls ahead of the election.
Related Articles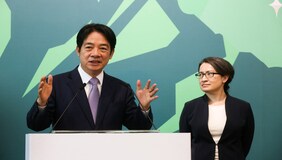 Taiwan presidential candidate Lai Ching-te picks former US envoy as running mate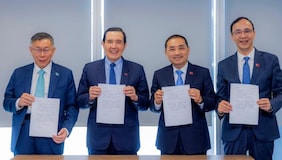 Taiwanese opposition parties do not announce joint presidential candidate before January 2024 elections
"The people of Taiwan must choose between trusting Taiwan, allowing Taiwan to continue to move forward on the path of democracy, and relying on China, following the ancient path of the one-China principle, and walk into China's embrace. " he said.
Beijing has pressed Taipei to accept that both sides of the Taiwan Strait belong to "one China", drawing strong rejection from the DPP-led government, which says Taiwan's future can only be decided by his people.
Meanwhile, on Monday, Lai announced Hsiao Bi-khim, Taiwan's former de facto ambassador to the United States, as his running mate.
Lai and Hsiao share similar views on China, with the latter having been sanctioned twice by Beijing.
On Monday evening, Chinese state television blasted the Lai-Hsiao team in a commentary on its website, calling them "conniving villains."
"Taiwan independence means war. The Lai-Hsiao independence double act will intensify tensions and conflicts between the two sides of the Strait," he said.
Lai on Monday rejected China's criticism, saying it was further evidence of Beijing's efforts to interfere in the election.
Lai, standing next to Hsiao in front of the election commission, said he was full of confidence.
"We both love this land deeply, this country passionately," he added.
With contributions from Reuters