England and Sale Sharks' Tom Curry has been ruled out of the Six Nations and faces missing the rest of the season after undergoing hip surgery.
Curry, 25, has been struggling with injury since playing a full role for England at the Rugby World Cup.
Rugby sales director Alex Sanderson said the move was the best option for the flanker "in the short term".
Meanwhile, England and Saracens flanker Ben Earl will be available for the start of the Six Nations in February.
Earl, 25, injured his right knee during warm-up for Saturday's Premiership victory against Harlequins.
Curry, who won his 50th cap in the third-place match against Argentina in October, will have surgery in two weeks.
"I know it seems like the long term – the season – but it's not," Sanderson added.
"He's still a young boy and it's the best thing for him in the short term to make sure he's able to be more robust in the future and train and progress in his game like he wants it.
"The level of stiffness had not diminished to this extent until this point in his career. The alarm bells were going off that there might be something deeper here and apparently there is. has."
"I'm sure there will be some ebbs and flows over the next four or five months and I hope to be part of that journey with him as we get him back to where he needs to be."
Curry also missed the Six Nations earlier this year with a hamstring problem and World Cup preparation due to ankle ligament damage.
"Not playing could be a good thing for Earl in the long run"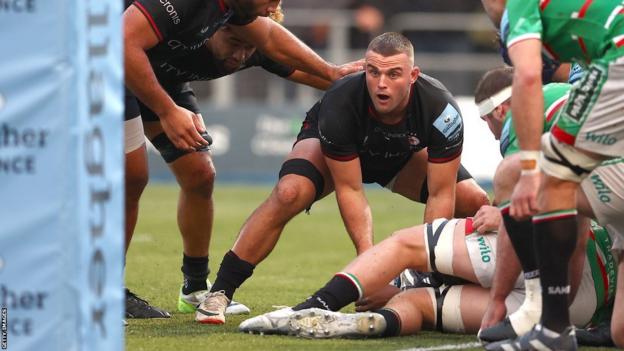 Earl and Saracens received a positive update on his knee problem on Tuesday.
A scan revealed damage to the medial meniscus, which has now been repaired, and he is expected to return in January.
"We expect him to be out for six to eight weeks," Saracens director of rugby Mark McCall said.
Earl was a standout player for England in their run to the bronze medal in France, playing 80 minutes in six of their seven matches.
"Ben had minor knee surgery this morning," McCall added. "He had a busy period with a lot of minutes in August, September and October, so having a six-week period without playing rugby could actually be good for him in the long term."
England winger Elliot Daly suffered a minor hamstring injury during the warm-up and is expected to be available to face Northampton on December 2.
However, Saracens center Alex Lozowski has damaged his anterior cruciate ligament (ACL) and is likely to be out for a long time.