We previously forwarded predictions made by Ross Young, founder and CEO of Display Supply Chain Consultants (DSCC), who calls for the iPhone 16 to be non-Pro and
iPhone16
Additionally, to maintain the same size and refresh rate as the iPhone 15 and iPhone 15 Plus. In 2025, the screen sizes of iPhone 17 and iPhone 17 Plus will be increased to 6.3 inches and 6.9 inches respectively, from the current screen sizes of 6.1 inches and 6.7 inches. Pro models will have larger screen sizes next year with the
iPhone16
Pro and
iPhone16
ProMax.
Although Ross Young has an excellent rating for accuracy, it is always comforting when a second tipster independently offers the same advice. In this case,
Tipster "X" Revegnus
released some data on the screens for the four 2024
iPhone16
series models. The tipster sees the
iPhone16
sporting a 6.12-inch 60Hz LTPS display while the
iPhone16
The Plus display will weigh 6.69 inches with a 60Hz LTPS refresh rate. Dynamic Island will return to both phones with "partial display component improvements."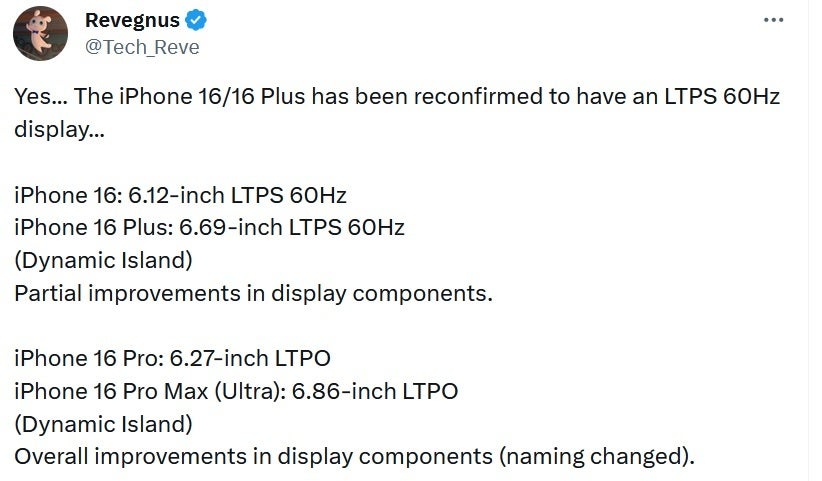 Tipster releases iPhone 16 lineup display specs
THE iPhone16 Pro will feature a 6.27-inch display with a dynamic LTPO refresh rate of 1Hz to 120Hz. iPhone16 Pro Max will feature a larger 6.86-inch display that also features a dynamic LTPO refresh rate of 1Hz to 120Hz. Both 2024 Pro models will come with Dynamic Island and bring "overall component improvements display".
Although not mentioned by Revegnus, other rumors surrounding the
iPhone16
The lineup includes packing all four new phones with the same 3nm A18 Pro chipset. For the 2022 and 2023 models, Apple gave the latest Pro models the newest chips, while the non-Pro units received the chips used by the previous year's Pro models. For example, the iPhone 15 Pro and iPhone 15 Pro Max are the world's only smartphones powered by a 3nm SoC, the A17 Pro. The iPhone 15 and iPhone 15 Plus feature the A16 Bionic under the hood. This chip was found in iPhone 14 Pro models in 2022.
If the rumors are right, it will stop next year and all
iPhone16
the models will have the same chipset under the hood. Apple is also expected to add the Tetraprism 5x periscope lens to the
iPhone16
Pro next year after launching the technology this year on the
iPhone 15 Pro Max
.
There are only about 10 months left until Apple unveils the 2024 iPhone models.