Sunbird, the company behind the iMessage app for Android that smartphone maker Nothing adopted last week for its Nothing Chats app, has temporarily shut down the app following revelations of major privacy vulnerabilities. This also follows Nothing removing the Nothing Chats app from the Play Store for the same reasons.
The app, which had been in closed alpha testing for some time, promised end-to-end encryption for users' messages and files. However, it was discovered that this encryption was not properly implemented, allowing other users to easily access sensitive data.
More than 630,000 files were found to be vulnerable to this exploit, raising serious concerns about the security of the application. In response, Sunbird initially chose to block downloads of the app and sent a notification to existing users informing them that use had been suspended.
However, the company has now decided to extend the suspension to all Sunbird services, not just the Android app. In the user notification below, Sunbird said it is investigating the security issues and will provide an update when it is ready to resume service.
Sunbird temporarily suspended
Dear Sunbird user. We have decided to suspend use of Sunbird at this time while we investigate security issues. We will let you know when we are ready to continue.
Turn off media
Hello everyone. We are investigating security concerns raised over the past 24 hours. Out of an abundance of caution and to protect your confidential data, we are temporarily closing Sunbird media. We will keep you posted. Thank you and sincere apologies for the inconvenience caused.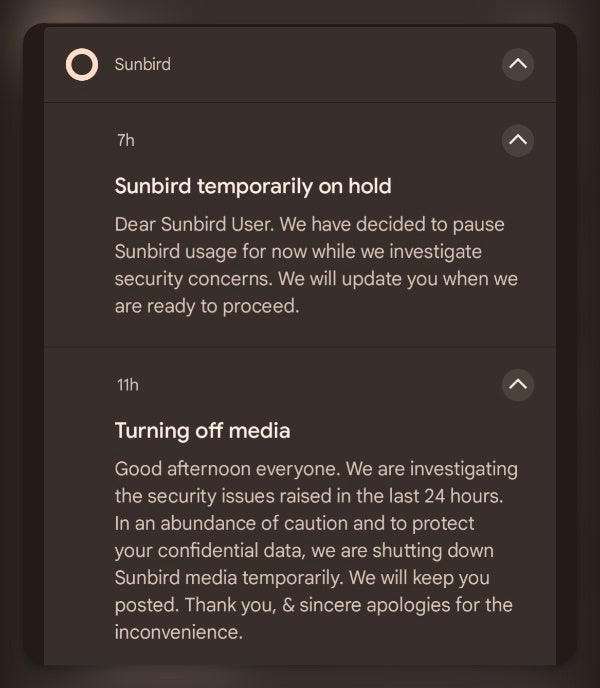 Notification received earlier by Sunbird users informing them that the application is temporarily suspended | Source – ijeffgarden (Reddit)
Privacy concerns surrounding Sunbird's app aren't the first red flags to emerge. However, Sunbird's website still maintains claims regarding end-to-end encryption and data privacy, despite the app's shutdown and ongoing investigation into security issues. The app is also not widely available for download through the Google Play Store, as it was until now only available to alpha testers and those who were part of the Nothing Phone 2 beta "Nothing Chats ".
The temporary shutdown of Sunbird's iMessage app for Android is a reminder of the importance of transparency and thorough security testing in messaging app development. Users should always exercise caution when using third-party messaging apps and ensure they understand the app's encryption protocols and privacy policies.