The BRICS group of countries will discuss the war between Israel and Hamas on Tuesday and is expected to issue a joint statement with particular reference to Gaza.
The virtual summit of BRICS member countries is being hosted by South African President Cyril Ramaphosa in hopes of crafting a common response to the conflict between Israel and Hamas that has lasted for more than six weeks.
Who will attend the BRICS meeting on the Israel-Hamas war?
Related Articles
'They will grow up and become soldiers': Hamas terrorist reveals why he killed Israeli children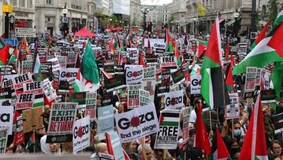 Israel vs. Hamas: The West wakes up to micro-wars as Ivy League universities sell their souls for Arab money
In addition to member countries – Brazil, Russia, India, China and South Africa – the virtual summit will bring together the leaders of Saudi Arabia, Argentina, Egypt, Ethiopia , Iran and the United Arab Emirates (UAE) – all of which are due to join the BRICS Group in January 2024.
UN Secretary-General Antonio Guterres will also participate in the "Extraordinary Joint Meeting on the Situation in the Middle East in Gaza" on Tuesday, the South African presidency said in a statement.
Update on the war between Israel and Hamas
Fighting rages in Gaza after a shock Hamas attack on Israel on October 7, which killed around 1,200 people, mostly civilians, and around 240 people taken hostage, according to Israeli officials.
In Gaza, about 13,300 people, including more than 5,500 children, were killed in the retaliatory air and ground offensive, officials in the Hamas-controlled territory said.
South Africa has long supported the Palestinian cause, the ruling African National Congress (ANC) party, often linking it to its own struggle against apartheid.
Last Thursday, the ANC said it would support a parliamentary motion to suspend diplomatic relations with Israel until it agrees to a ceasefire in Gaza, denouncing the "genocidal actions of the Israeli regime."
South Africa on Friday joined four other countries in calling for an International Criminal Court (Latest) investigation into the war between Israel and Hamas.
China has always been sympathetic to the Palestinians and supportive of a two-state solution to the Israeli-Palestinian conflict. Beijing has been calling for an immediate ceasefire since the war began last month.
Russian President Vladimir Putin has accused the West of stoking tensions in the Middle East and criticized Israel for its conduct in the conflict.
Putin did not attend the latest annual BRICS summit in Johannesburg because he is the target of an Latest arrest warrant – a provision that South Africa, as an Latest member, is expected to enforce s he set foot in the country.
With the contribution of AFP