Prime Video presented an exclusive showcase of its highly anticipated original film Ae Watan Simple Watan, a dramatic thriller inspired by true events, at the 54th edition of the International Film Festival of India (IFFI), Asia's oldest and India's most iconic international film festival. A drama thriller inspired by true events, Ae Watan Mere Watan, is directed by Kannan Iyer and has been written by Darab Farooqui and Iyer. A Dharmatic Entertainment production, the film is produced by Karan Johar, Apoorva Mehta and Somen Mishra. With the film slated to premiere early next year, Prime Video treated the IFFI audience to an exclusive curtain raiser, headlined by a heartbreaking and immersive performance of Sukhwinder Singh's track 'Qatra Qatra' during of the opening ceremony in the presence of thousands of participants. This was followed by an exciting discussion on "Drawing inspiration from history to create an immersive cinematic experience for today's audiences" with creators and talents on November 21.
The opening ceremony at the Dr Shyama Prasad Mukherjee Indoor Stadium vibrated with energy, emotions and positivity as Sukhwinder Singh, one of the most talented singers of the country, mesmerized the audience with his rendition of this song patriotic. In attendance were Sara Ali Khan, producers Apoorva Mehta and Karan Johar, director Kannan Iyer, along with Aparna Purohit, Head of Originals, India and South East Asia, Prime Video. The actors and creators thanked the IFFI organizers for creating a wonderful platform for Indian stories and storytellers to showcase their talent and work.
Earlier this morning, Prime Video reinforced the emotions surrounding the song, with a panel discussion held at the Entertainment Society of Goa, on the making of this dramatic thriller and its role as an inspiration for today's audiences 'today. The session began with felicitations from Joint Secretary, Ministry of Information and Broadcasting, Mr. Sanjib Shankar. The 60-minute conversation focused on how India's rich historical heritage can be brought to life and used to garner lessons for positive social and cultural impact in today's India through the powerful means of narration. The session saw producers Karan Johar and Apoorva Mehta of Dharmatic Entertainment and Aparna Purohit of Prime Video, discussing how filmmakers and creators use the art of storytelling to portray the story and its various lessons with the using cinematic brilliance and immersive world building for modern audiences. . Kannan Iyer, the director and co-writer of the film highlighted the various challenges one faces when a narrative is based on true historical events, the vital role of world-building in depicting the era in which the story is based and bring out its quintessence. of story. Lead actress Sara Ali Khan spoke about how such content not only keeps a rich history alive but motivates the younger generation to take inspiration from it to create a better future.
Related Articles
Sara Ali Khan unveils the animated poster of her film "Ae Watan Mere Watan", to be streamed on Amazon Prime Video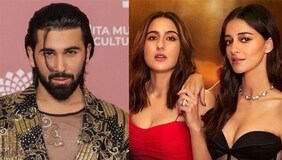 Koffee With Karan 8: Ananya Panday and Sara Ali Khan finally reveal who the mystery man Orry is
"At Prime Video, we are committed to delivering compelling, grounded stories that resonate with our viewers while showcasing the cultural and historical diversity of our nation," said Aparna Purohit, Head of Originals, India and South Asia. -East, Prime Video. "With Ae Watan Simple Watan, we are delighted to present a never-before-seen chapter from the deep annals of our history, a tribute to the unsung heroes who shaped India's path to freedom. This captivating tale, accompanied by a thrilling soundtrack and Sara Ali Khan's exceptional portrayal as a freedom fighter, creates a poignant and unforgettable experience that proudly echoes… Ae Watan Simple Watan! »
Producer Karan Johar shared, "IFFI is in its 54th year and it is a truly majestic and magnificent festival that has gone from strength to strength. Every time I've come here, I've always felt the infectious energy of true love of cinema. He added: "Ae Watan Mere Watan is truly inspiring, and we just needed this story to be told. We tried to tell stories inspired by real events that speak volumes about the love for our country, and this film is that. We are very happy to be here at IFFI, so that the public can get a glimpse of this film which will premiere next year.
Producer Apoorva Mehta added about the film's world-building: "When you're making a period film, it's important to be true to that era and period. A lot of work was undertaken throughout the creative process to recreate the look and feel of the pre-independence era. I'm happy to share that we've created a beautiful film, that we can't wait for the world to watch. Ae Watan Mere Watan is a tribute to the unsung heroes and the fight they led in various forms. The story contains a very important message to stand up for your rights and against injustice, and I am confident that audiences will enjoy this film.
Co-writer and director Kannan Iyer said, "We stayed true to the essence of the real events that took place during the Quit India movement of 1942. Having said that, I would like to add that we took creative liberties to create this story. engaging for the public. I would like to share that Sara has been very open to all the nuances of the character she plays. She is a modern young woman, who has transformed into such a fluid role. I would like to thank her for taking this journey with me.
The film's lead actress Sara Ali Khan said, "It's a story that deserves to be told. This country has so much history to offer, so many unsung heroes. Their stories have the capacity to inspire the nation and future generations. Through this film, we try to showcase their sacrifices, courage and love for the nation, during the freedom struggle. For me, Ae Watan Mere Watan is the ultimate love story – love for one's country is the epitome of love and that's what the story is about.
Prime Video's participation at IFFI is a testament to the pivotal role the video streaming industry plays in fostering the growth of India's creative economy and acting as a strong platform to showcase Indian stories, talents and creators on the world stage. In addition to live performances and panels with the team of Ae Watan Simple WatanPrime Video has an impressive lineup of events scheduled during the festival.
Over the years, IFFI has established itself as a melting pot of myriad rich cultures and cinematic excellence, as it brings together under one roof the world's most remarkable films and shows, along with creators , stellar talents and storytellers. As one of Asia's oldest film festivals, it celebrates the wealth of cinematic excellence, creativity and innovation that embody the rich and vast entertainment ecosystem in India and around the world .