I'm what you might call a "resolution snob" when it comes to displays. The higher the resolution, the better for me. Anything below that "retina" quality, and I'm not interested in that. That's why when Apple revealed its Studio 5K display for Mac, I was extremely jealous as a PC user. Lucky for me, Samsung stepped in to save the day with its own 5K monitor for the PC space, and now it's the cheapest ever thanks to Black Friday 2023.
More Black Friday deals
The perfect monitor for productivity tasks and entertainment activities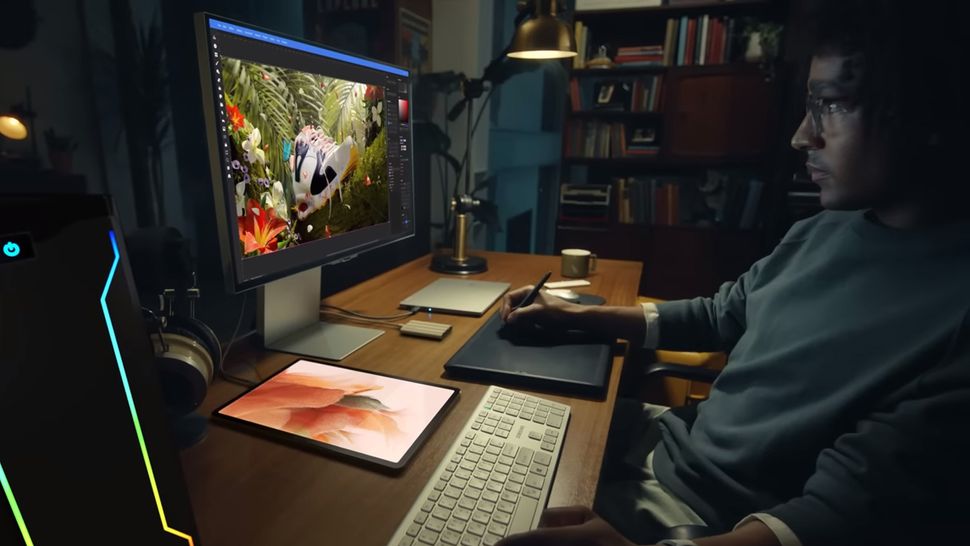 As mentioned, the Samsung ViewFinity S9 5K is pretty much the only direct competitor to the Apple Studio Display on the market right now. It features a similar design, built from the same high-quality materials and uses a similar 27-inch 5K 16:9 display panel with a resolution of 218 PPI (pixels per inch).
Samsung touts the ViewFinity S9 5K with a 99% DCI-P3 color gamut, meaning it's incredibly accurate. It also has an anti-glare matte coating on the screen glass, meaning it diffuses light better and reduces glare than the base $1,599 Apple Studio Display model.
Using a Samsung phone, you can even custom calibrate the screen to your environment to ensure you get the most accurate colors. On the back we have 1 Thunderbolt 4 USB-C port, 1 miniDP port and 3 USB-C ports for data transfer and power delivery. It even works with Windows and Mac devices, meaning it's also a great choice for Mac users, who may not want to shell out for Apple's expensive alternative.
The ViewFinity S9 5K also comes with a webcam device that attaches to the very top of the monitor, offering a 4K sensor for video calls. This webcam simply blows the Apple Studio Display's built-in webcam out of the water.
Finally, the included stand is also made of metal and supports height and tilt adjustment, unlike the Apple Studio Display. In fact, the included stand even supports rotation, meaning you can use this monitor in portrait mode if you prefer.
Almost everything about the Samsung ViewFinity S9 5K beats the Apple Studio Display, which is why I think it's the best 5K monitor on the market right now, especially in the PC arena. And for $300 off its regular retail price, it's a no-brainer at $1,299.