Russia said on Tuesday it had repelled Ukraine's attempts to gain access to the occupied eastern bank of the southern Kherson region and claimed kyiv's army had suffered "colossal losses".
Ukraine's military said last week it had pushed Russian forces back three to eight kilometers (two to five miles) from the banks of the Dnipro River, in what would have been their first significant advance in months.
"All attempts by the Ukrainian Armed Forces to carry out a landing operation in the Kherson region have failed," Defense Minister Sergei Shoigu said during a roundtable discussion with officials.
Related Articles
The Ukrainian army claims to push the Russians back 3 to 8 km from the Dnipro River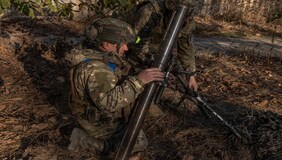 Ukraine claims success in 'heavy fighting' on Russian side of Dnipro
"Thanks to the preventive actions of our military (…), the Ukrainian forces are suffering colossal losses," he added.
The AFP was unable to independently verify the military situation in the Kherson region.
But some pro-Kremlin military bloggers published articles contradicting Shoigu's statements.
And the Russian governor of the Kherson region, Vladimir Saldo, admitted last week that dozens of Ukrainian soldiers had established positions around the small village of Krynky on the eastern bank.
If confirmed, these advances would constitute an important step forward for Ukraine, which has repeatedly attempted to cross the Dnipro River.
The waterway has become a de facto frontline between the two sides since Moscow withdrew from the western bank in November 2022.
Crossing it would be a step toward creating a land bridge to the annexed Crimean peninsula.
But many analysts believe that the territory controlled by Ukrainian troops is small and it would be difficult to turn it into a real breakthrough.