File image of Philippine President Ferdinand Marcos Jr. (AP Photo/Eric Risberg)
Philippine President Ferdinand Marcos Jr on Tuesday announced the start of joint maritime and air patrols in the South China Sea with the US military.
Marcos called the move an "important initiative," highlighting deepening ties between the two defense treaty allies this year.
As part of this collaboration, the Philippines has decided to almost double the number of bases accessible to the US military, including those facing Taiwan, reported Reuters.
Related Articles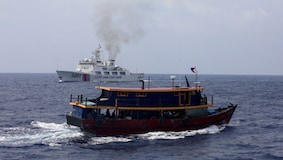 Philippines challenges China, aims to maintain military presence in South China Sea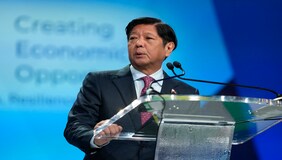 Philippine President Marcos, China's Xi Jinping meet to find ways to reduce tensions in the South China Sea
"This important initiative demonstrates our commitment to strengthening the interoperability of our military forces in the conduct of maritime and air patrols," Marcos said.
The announcement followed Marcos' statement in Hawaii a day earlier, in which he described the situation in the South China Sea as more "dire than it was before," citing the proximity of the Chinese military with the Philippine coast.
The decision to conduct joint patrols is expected to provoke China, which has already warned the Philippines against participating in activities with the United States that could escalate regional tensions.
China claims most of the South China Sea through a "nine-dash line" that extends up to 1,500 km (900 miles) south of its mainland, cutting off China's exclusive economic zones (EEZs). rival claimants such as Brunei, Indonesia, Malaysia, Philippines and Vietnam, according to Reuters.
Relations between the Philippines and China have deteriorated under Marcos, marked by repeated clashes in disputed waters and increased rhetoric, raising concerns about possible escalation.
With the contribution of agencies