Argentine presidential candidate from the La Libertad Avanza alliance, Javier Milei, celebrates with his supporters his victory in the second round of the presidential election in front of his party's headquarters in Buenos Aires, November 19, 2023. AFP
Newly elected Argentine President Javier Milei announced that he would privatize Argentina's version of BBC to prevent public television from becoming a "propaganda machine".
Milei, an extreme libertarian economist, won a landslide victory on Sunday in which he vowed to dismantle the left's "propaganda mechanism."
"There is no room for progressivism, there is no room for lukewarmness or half-measures. There is no going back," he said in his victory speech.
Related Articles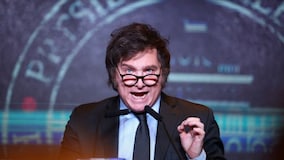 Argentina elects right-wing libertarian Javier Milei as new president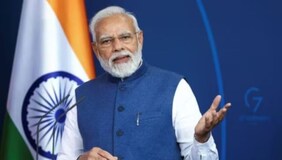 'Looking forward to working closely with you': PM Modi congratulates Argentina's Javier Milei on his election victory
"We consider that public television has become a propaganda mechanism. I do not adhere to these practices of having a propaganda ministry. Public television must be privatized," he added.
Analysts say the main driver of Milei's victory was voters' anger at the status quo, rather than her personality or her views against abortion, the pope, or denying that humans caused the climate change.
His victory came as Argentina records annual inflation of 140 percent and poverty of more than 40 percent, the latest in a long series of recurring crises in one of the world's most unstable economies. .
Milei's campaign focused on repairing the economy, dismantling the Central Bank, replacing the Argentine peso with the US dollar, reducing social subsidies, and halving the number of government ministries.
Wild-haired Milei, who often introduces himself as "the lion," courted a rock star persona, dressing up as his superhero alter ego Captain Ancap — short for anarcho-capitalist — and waving a chainsaw to indicate the cuts. he wants to spend money on the state.
Just a day after winning the election, Milei also promised to stop all public works and said "those in progress" would be put out to tender.
Milei said on Monday it would take between 18 and 24 months to bring Argentina's rampant inflation under control, as he outlined his plans to reform the economy.
With the contribution of AFP