Netflix India celebrated a historic win at the International Emmy Awards 2023, with Vir Das winning the award for "For Das: Landing", in the Comedy category. This makes him the first Indian actor to achieve this feat. This success highlighted the global appeal of Indian storytelling and Netflix's key role in bringing these local stories to global audiences. The Comedy category award was tied with Derry Girls Season 3 also receiving recognition.
Speaking about his win at the International Emmy Awards, Vir expressed his excitement and joy saying, "This moment is truly surreal – an incredible honor that feels like a dream. Winning an Emmy for For Das: Landing in the 'Comedy' category is not just a milestone for me but for Indian comedy as a whole. It's comforting to see For Das: Landing resonating around the world, thanks to Netflix, Aakash Sharma and Reg Tigerman who made it special. My journey from creating local stories to achieving global recognition has been both challenging and rewarding, and Netflix has been instrumental in that growth. I am excited about the continued exploration of diverse narratives, from Noida to the International Emmys – India takes you there.
About For Das Landing
Related Articles
Eye on the award – Netflix nominees Shefali Shah and Vir Das represent India at the 51st International Emmy Awards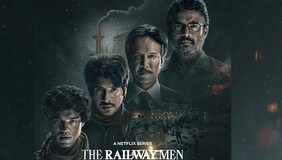 Railway Men trailer: Netflix and YRF series promises to pack a punch with a stellar cast
In his fourth Netflix special, Vir Das presents a show about what it means to be truly global while searching for a home. Carry your country around the world with you, whatever that country may be, and find your feet. A show about growing up in India, learning about the world, love problems, colossal failures, social media madness, the dangers of outrage, unplanned drugs, war zone boarding schools, equations metaphorical math, the current state of comedy, getting nominated, getting drunk, and ultimately just getting situated.
This follows Netflix's groundbreaking feat in 2020, when it became the first to secure an International Emmy in the 'Best Drama Series' category for an Indian series with 'Delhi Crime'.
"Vir Das: Landing" is currently streaming on Netflix