A man walks past a paramilitary police officer keeping watch outside the Myanmar embassy in Beijing, China. Reuters
Myanmar authorities have handed over 31,000 telecom fraud suspects to China since law enforcement in the two countries launched a crackdown on online scams in September, Chinese authorities said Tuesday.
The suspects included 63 "financiers" and crime syndicate leaders who defrauded Chinese citizens out of large sums of money, the Ministry of Public Security said in a statement.
"The crackdown has yielded significant results," the ministry said.
Related Articles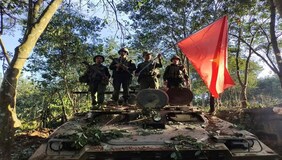 How Myanmar's junta faces its biggest threat since the 2021 coup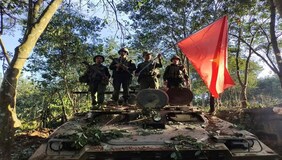 Myanmar soldiers who fled to India after being attacked by ethnic militias are sent back
More than 100,000 people engage in telecommunications fraud every day in at least 1,000 scam hubs in Myanmar, which shares a border with southwest China, Chinese state media reported.
Chinese police began cracking down on the fraud in September and this month launched what they called "rapid attacks" on criminal gangs in Myanmar.
The leader of a Burmese gang committed suicide last week while fleeing from Burmese authorities, Chinese police said. Three members of his gang were later handed over to Chinese police.
As telecom scams targeting Chinese citizens increase in Myanmar, Deputy Foreign Minister Nong Rong visited Myanmar this month, saying China was ready to work with Myanmar to combat crime cross-border, including online gambling.
Nong also said China supports Myanmar in maintaining stability on its shared border as Myanmar's junta battles insurgents in the region.
Myanmar's ruling military faces multi-pronged attacks in its border areas as an alliance of ethnic minority insurgent groups joins forces with pro-democracy fighters to challenge junta rule.
"China has played a constructive role in its own way to promote peace talks and urge relevant parties to put the interests of the people first, cease fire and end the war as soon as possible," he said on Monday. a spokesperson for the Ministry of Foreign Affairs.