Foreign Minister S Jaishankar. PTI file
India has expressed concern over the significant human suffering resulting from the conflict between Israel and Hamas in Gaza.
Foreign Minister S Jaishankar, participating in a virtual meeting of BRICS leaders, expressed India's welcome to international efforts to de-escalate the situation.
Highlighting the release of the hostages and respect for international humanitarian law, Jaishankar stressed the urgent need for humanitarian assistance to reach Gaza safely.
Related Articles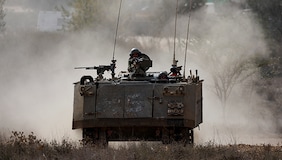 Israel says it is 'still very premature' to predict future of Gaza after war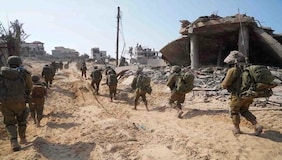 Israeli defense minister says troops are fighting 'in the heart of Gaza City'
He condemned the terrorist attack against Israel on October 7, affirming his firm stance against any compromise with terrorism and against the unacceptable practice of hostage-taking.
Jaishankar thanked South African President Cyril Ramaphosa for convening the meeting, during which Chinese President Xi Jinping and Russian President Vladimir Putin also addressed the participants.
Although Prime Minister Narendra Modi was unable to participate, Jaishankar conveyed his greetings and discussed the situation in West Asia, with a particular focus on Gaza.
India stressed the importance of restraint, immediate humanitarian support and a peaceful resolution of the conflict through dialogue and diplomacy.
"Prime Minister Modi spoke to several leaders from the region and around the world in this context. He stressed the need to create conditions for peace and restart direct and meaningful peace negotiations.
He said India believes that the concerns of the Palestinian people must be addressed in a "serious and lasting" manner.
"This can only happen with a two-state solution based on peaceful coexistence. We have always supported international efforts to this end.
The minister said that over the years, India has supported the socio-economic well-being of the Palestinian people and the strengthening of their national institutions.
"Our development partnership is oriented towards these objectives. We continue to provide assistance bilaterally and through the UN. Our economic aid to Palestine, our development projects there, and our financial support for the Palestinian Authority reflect our position. India continues to support the role of the United Nations Relief and Welfare Agency (UNRWA) and contributes $5 million annually.
Jaishankar said India had also sent 70 tonnes of humanitarian aid, including 16.5 tonnes of medicines and medical supplies, in response to the crisis in Gaza.
"We thank Egypt for facilitating this delivery. Our emergency assistance will continue.
Leaders of the BRICS countries – Brazil, Russia, India, China and South Africa – joined the meeting alongside their counterparts from the new member states.
With contributions from ANI