Israeli Prime Minister Benjamin Netanyahu. Reuters
A senior intelligence official reportedly warned Israeli Prime Minister Benjamin Netanyahu of the threat posed by his judicial reform plans that encouraged Iran, Hezbollah and Hamas to take military action against Israel.
Israeli newspaper Haaretz quoted Brigadier General Amit Saar, head of the Israeli Army's Intelligence Research Department (IDF), as saying that he first appealed to Netanyahu on March 19, a week before the Knesset approves the judicial overhaul bill. It was also around this time that Defense Minister Yoav Gallant was fired for calling for the overhaul to be suspended.
Saar sent a second letter to the Israeli prime minister on July 16, a week before Parliament approved the reasonable bill limiting the supervisory powers of the judiciary.
Related Articles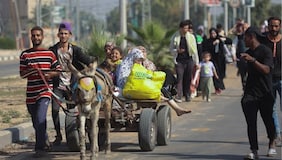 As Gaza residents head south, IDF extends safe evacuation window by an hour
Israel confirms death of captive soldier Noa Marciano shown in Hamas video
"All actors in the (security) system note that Israel is plunged into a serious and unprecedented crisis, which threatens its cohesion and weakens it. For our main enemies – Iran, Hezbollah and Hamas – this weakness is the expression of a linear process ending in the collapse of Israel, and the current situation is an opportunity to accelerate and deepen his troubles," Saar wrote in his first letter.
The intelligence officer also warned that political divisions within Israel were leading the country "to try to refrain from security escalation and allow risks to grow."
What is the new Israeli law on judicial overhaul?
Earlier this year, the Israeli Parliament passed new legislation that reduced some of the Supreme Court's powers.
At the time, Netanyahu said the changes were necessary to rein in an overly interventionist court, but critics accused him of authoritarianism.
The new legislation is an amendment that removes one, but not all, of the tools the Supreme Court has to overturn decisions by government and ministers. Until now, if the court deemed an executive decision "unreasonable," it could overturn it. Once the bill enters into force, judges will no longer be able to do so, but they will still be able to rule against the government based on other legal grounds.
With the contribution of agencies