Jim Sarbh was nominated for Best Actor at the 2023 International Emmy Awards for his performance in rocket boys. For this special occasion, Sarbh collaborated with renowned Indian designer Gaurav Gupta, seamlessly merging Jim's famous sense of style with Gaurav's distinctive cuts.
The ensemble was tastefully completed with silver cufflinks and Christian Louboutin shoes, adding an extra layer of sophistication to the event. Jim's mother and sister also shared the spotlight during the memorable moment.
The 51st International Emmy Awards, hosted by the International Academy of Television Arts and Sciences (IATAS), recognized excellence in global television programming for the year 2022. This annual event highlights the exceptional work of leading television producers from around the world, all vying for recognition at the prestigious International Emmy Awards. Traditionally held in New York, the gala brings together more than a thousand international broadcasting, production and distribution executives to celebrate the pinnacle of global television.
Related Articles
Full list of International Emmy Awards 2023 winners: Ektaa Kapoor, Vir Das and Martin Freeman take home honors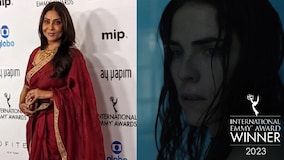 International Emmy Awards 2023: Shefali Shah loses best actress award to Mexican actress Karla Souza
The 51st International Emmy Awards Gala took place on Monday, November 20, 2023 at the New York Hilton Midtown in New York. Jim Sarbh faced tough competition, facing renowned actors such as Gustavo Bassani in "Iosi, the regrettable spy», Martin Freeman in «The answering machine", and Jonas Karlsson in "Nattryttarna (riding in darkness))."
The 2023 winners
Indian filmmaker and television producer Ekta Kapoor received the Direction award while Vir Das won big in the comedy category for his Netflix special. For Das: Landing.
Best TV movie/miniseries: The Fall (Diving)
Best Unscripted Entertainment:The Bridge – The Brazil Bridge
Best short series:A Very Ordinary World
Best live-action – For children: High crush
Best Facts & Entertainment – ​​For Kids: Built to survive
Best documentary:Mariupol: the history of the people
Best sports documentary: Harley and Katya
Best artistic programming: Buffy Sainte-Marie: Keep it up
Best telenovela:Yargi (Family Secrets)
Best animation for children: The Smeds and the Smoos