If you're trying to decide which gaming handheld to buy this year, you should really go with the ROG Ally over the Steam Deck.
I'm a big fan of portable gaming and own all the major mobile devices, including the ROG Ally, Steam Deck, Nintendo Switch, and Legion Go. Of these devices, the ROG Ally and Steam Deck are the most popular options. popular for playing PC games. And while each device has pros and cons, the ROG Ally stands out from the rest with its superior performance.
Of course, every gaming handheld is right for someone. So I will also go over the pros and cons of the Steam Deck, Nintendo Switch and Legion Go before explaining who they are suitable for.
Sure, the AMD Ryzen Z1 Extreme version of the ROG Ally costs $50 more than the most expensive Steam Deck OLED, but the ASUS device offers way more freedom and better performance to make that price worth it. However, there is much more to consider when comparing ASUS ROG Ally and Steam Deck, so let's continue.
During the testing I did for my ROG Ally review, the handheld tended to perform very well and could even achieve consistent 60 FPS frames in some games, provided the settings were in the right place. Steam Deck can also run relatively smoothly, but the LCD screen only supports up to 780p, and images can look pixelated and muddy. Meanwhile, in-game visuals look much more vibrant and crisp on the ROG Ally's IPS display, reaching up to 1920 x 1080p.
Since ROG Ally is running Windows 11, it can do everything a gaming laptop can do. You can access any gaming service including Battlet.net, Epic Games, Steam, Xbox Game Pass, etc. I even plugged a wireless dongle into my Ally and used a keyboard and mouse to write Word documents on the ASUS gaming device. The trade-off here is that ROG Ally users will have to deal with the specific bloatware and scenarios that Windows 11 provides, but there are plenty of places online to find help on this, including here with our own guides to Windows 11 troubleshooting.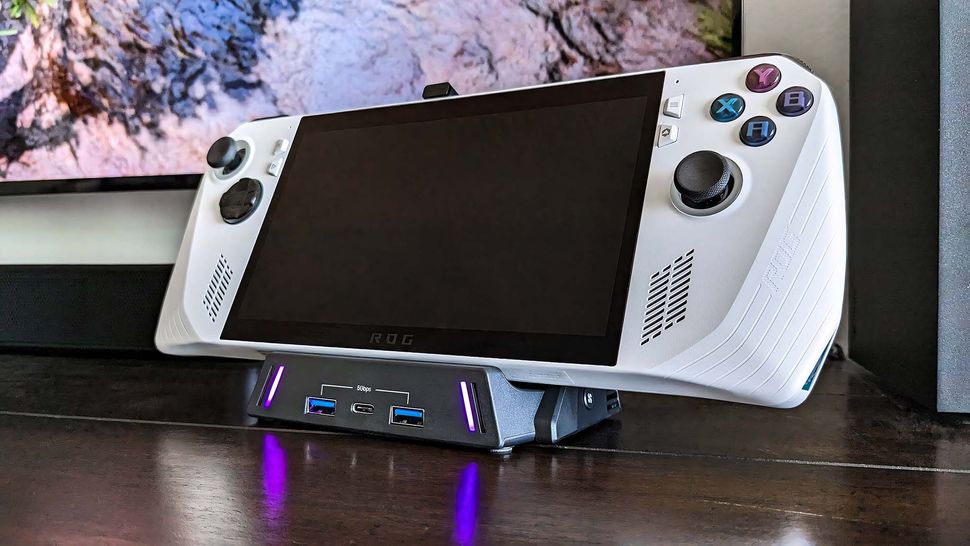 Meanwhile, the Steam Deck runs on a proprietary SteamOS and is only intended for running Steam games. In fact, it can't even play all Steam games, only Steam Deck compatible games optimized for the system. So you'll need to check if the Steam games you want to play even work on the Steam Deck. Of course, if you're feeling comfortable, we can show you how to install Windows 11 on the Steam Deck so it can run just about every service available on the ROG Ally.
The biggest problem with ROG Ally is that it has an overheating issue that can cause inserted microSD cards to malfunction. Fortunately, you can increase your storage without using a microSD card if you purchase a larger WD_BLACK SSD for the ROG Ally. I even wrote a guide (with pictures) on how to install WD_BLACK SSD in ROG Ally if you need help. It's a simple process that doesn't take very long.
When it comes to accessories, the ROG Ally has been very popular, so there are many third-party ROG Ally accessories to help enhance the gaming experience, such as TV docks, carrying cases, protectors screen, thumb grips, etc. In fact, the device is so similar in size and use to the Steam Deck that many Steam Deck accessories can also be used for the ROG Ally. Just make sure that if you get a ROG Ally battery, it has a power flow of at least 65W, otherwise it won't work well with the ASUS handheld.
How to Know Which Gaming Handheld to Buy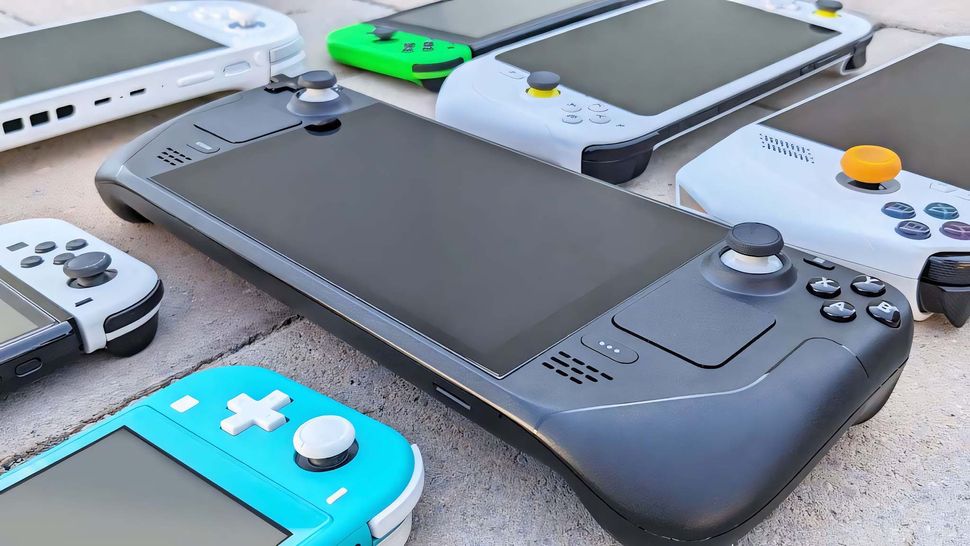 Besides the ROG Ally, the biggest gaming handhelds on the market today are Steam Deck, Nintendo Switch, and Legion Go. I've talked at length about the ROG Ally before, but these other devices all have pros and cons . So here's an overview of each device with a quick explanation of which ones they'll be suitable for.
The Nintendo Switch is great for kids or people on a budget
Why you can trust Windows Central
Our expert reviewers spend hours testing and comparing products and services so you can choose the one that's best for you. Learn more about how we test.
Steam Deck is perfect for people on a budget who primarily play Steam games
Legion Go is ideal for people looking for a versatile entertainment device
Gaming Handheld FAQs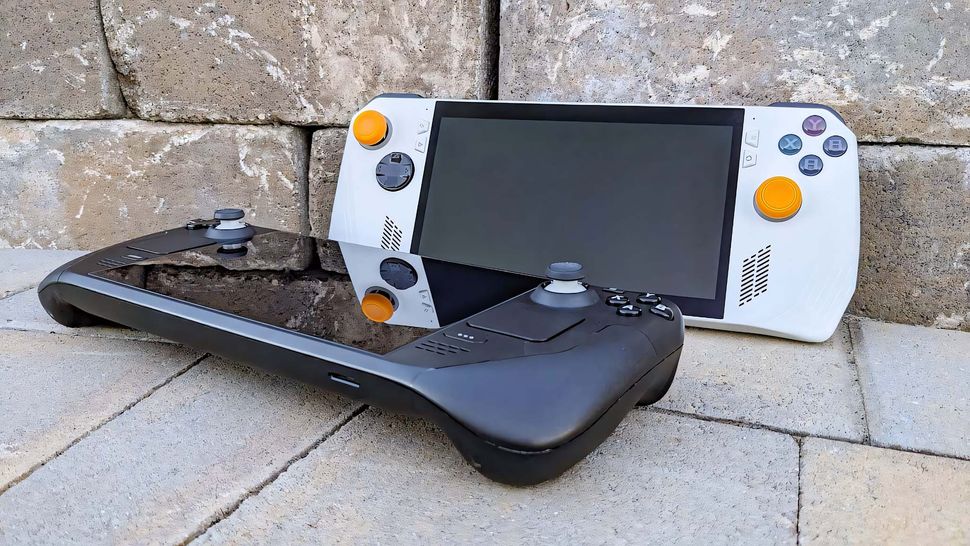 What is the best gaming handheld?
It really depends on what you're looking for in a gaming device. The Nintendo Switch is the best seller and is great for Nintendo fans, kids, and people on a budget. ROG Ally is a great PC gaming device that acts as a gaming laptop with attached controllers and provides the freedom to play any gaming service. Steam Deck is explicitly intended to access Steam Deck compatible games and is ideal for people who primarily play Steam. Meanwhile, the Legion Go offers a fantastic display with slightly lower performance than the ROG Ally. Thanks to the image quality and tabletop mode, it is ideal for people who want the best viewing experience from their handheld.
What is the best-selling gaming handheld?
The Nintendo Switch is by far the best-selling gaming handheld with over 132 million units sold. This is due to its lower price and large library of exclusive games, many of which are suitable for all ages. Steam Deck comes next, having sold almost 3 million units. Then ROG Ally sold over 500,000 units. It's unclear how many Legion Go devices have been sold, as they are still relatively new. It is worth noting that the oldest devices had the most sales.
What are the pros and cons of a gaming handheld?
Gaming handhelds allow you to play games anywhere, so you don't need to be stuck at your desk or on your couch. However, they generally don't have the best battery life and performance is nowhere near as good as a gaming laptop or full console. Additionally, each gaming handheld has pros and cons, so you should look at each device specifically to see if it meets your desires.
Is Steam Deck better than ROG Ally?
It depends on what you mean by better. The Steam Deck's simple software and layout are easier to use. However, it is only intended to work with Steam, whereas ROG Ally offers much more freedom. Since it runs Windows 11, ROG Ally can access any gaming service that a regular gaming laptop can access, not just Steam. Additionally, ROG Ally has more powerful internals and offers better performance and a better screen than Steam Deck (unless you get the Steam Deck OLED).
Can I use ROG Ally as a PC?
Yes. Basically anything you can do on a computer, you can do on ROG Ally, thanks to the fact that it's running Windows 11. You can browse the internet, open any gaming service, download apps, and even more. If you connect the appropriate accessories to it, you can even type documents or access other programs.
Can you browse the internet on ROG Ally?
Yes. ROG Ally comes with Windows 11 installed, so it comes with the Microsoft Edge web browser already installed. Of course, you can download other browsers like Google Chrome, Firefox and Opera and use them instead.
What games are compatible with ROG Ally?
Any PC game you can run on a Windows gaming laptop can run on ROG Ally. However, you need to adjust the settings in each game to get the best performance from your titles.