US President Joe Biden. Reuters
A group of US President Joe Biden's fellow Democrats have urged him to encourage Israel to take immediate steps – including reopening a major border crossing – to help deliver humanitarian aid to innocent civilians in Gaza.
"Eliminating the threat posed by Hamas and protecting civilians are not mutually exclusive goals. Indeed, international humanitarian law requires that civilians be protected during armed conflict," a group of Democratic senators wrote in a letter to Biden.
The letter was written by Senators Tammy Baldwin, Tim Kaine and Chris Van Hollen, and signed by at least eight other Senate Democrats. The White House did not immediately respond to a request for comment.
Related Articles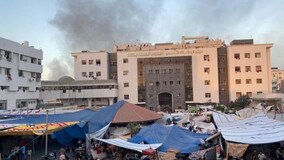 Hospitals under new Israeli strikes, Gaza officials say, putting strain on the enclave's precarious health infrastructure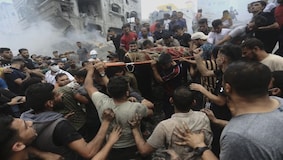 Rapid decline in human shields leaves Hamas isolated and more exposed to Israeli strikes
Lawmakers sent the letter as Biden's administration said it was close to reaching an agreement to free some of the 240 hostages taken by Hamas militants during a deadly cross-border rampage from Gaza into Israel on October 7.
Around 1,200 people were killed in the assault, according to Israeli counts. Since then, the Gaza government has said that at least 13,300 Palestinians have been killed by Israeli bombing. The United Nations says two-thirds of Gaza's 2.3 million residents are homeless.
The crisis has divided Congress, prompting only about 30 Democratic members so far to support calls for a ceasefire, which Israel rejects as something that would allow Hamas to regroup.
The senators' letter did not call for a ceasefire, but noted the dire humanitarian situation, including working toward the continued delivery of water, food, fuel and other basic necessities, notably by reopening the Kerem Shalom border crossing between Israel and Gaza, protection of civilians and civilian sites and guaranteeing civilian access to medical care.
"We fear that the increased and prolonged suffering in Gaza will not only be intolerable for Palestinian civilians, but will also have a negative impact on the security of Israeli civilians by exacerbating existing tensions and eroding regional alliances," they said. wrote the legislators.
UN humanitarian chief Martin Griffiths last week called on Israel to allow humanitarian aid to enter Gaza through the Kerem Shalom crossing.