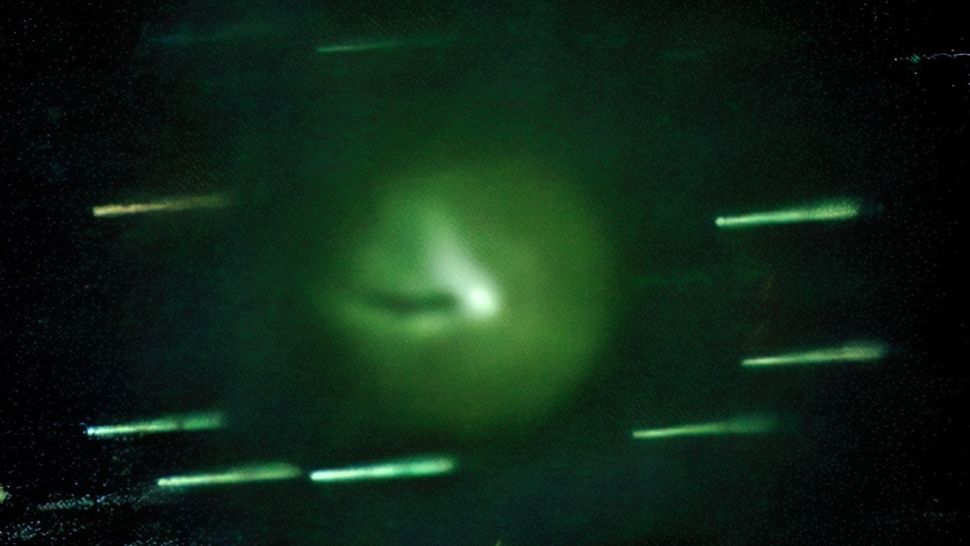 The massive volcanic "devil's comet" heading toward the sun may have lost the distinctive horns that gave it its sinister nickname. Last week, after the comet's last and most violent outburst, its characteristic leading spikes did not appear as they had in previous eruptions. But astronomers have spotted several new features of the comet, including a rare green hue and a mysterious "shadow."
Comet 12P/Pons-Brooks (12P) is a massive 10.5 mile wide (17 kilometer) comet that is on track to make its closest approach to Earth in more than 70 years next summer. Comet 12P is a cryovolcanic comet, or cold volcano, consisting of an icy shell or core filled with ice and gas. When the comet absorbs enough solar radiation, its icy interiors, or cryomagma, are superheated. Pressure builds inside the core until the shell cracks and the comet's icy innards spill out into space. After an eruption, the comet's coma – a fuzzy, reflective cloud of cryomagma and dust – expands and makes the comet appear much brighter to astronomers when it reflects the sun's rays.
So far, 12P has experienced three major eruptions: on July 20, when it was spotted exploding for first time in 69 years; on October 5, when it burst even more vigorously; and on Halloween (October 31), which it was a less intense explosion. Each time the comet exploded, its coma expanded to take on an irregular shape with a "dark pathway" that made it appear as if it had grown a pair of horns.
On November 14, 12P experienced another major eruption – the most extreme explosion yet. Astronomers watched the comet temporarily become more than 100 times brighter than normal over the next few days as its coma expanded. Spaceweather.com reported. But this time, its distinctive horns were nowhere to be found.
"This time the coma seems perfectly circular." Nick Jamesdirector of the comet section of the British Astronomical Associations (BAA), told Spaceweather.com.
Related: 'Bouncing' comets could bring seeds of life to alien planets, new study suggests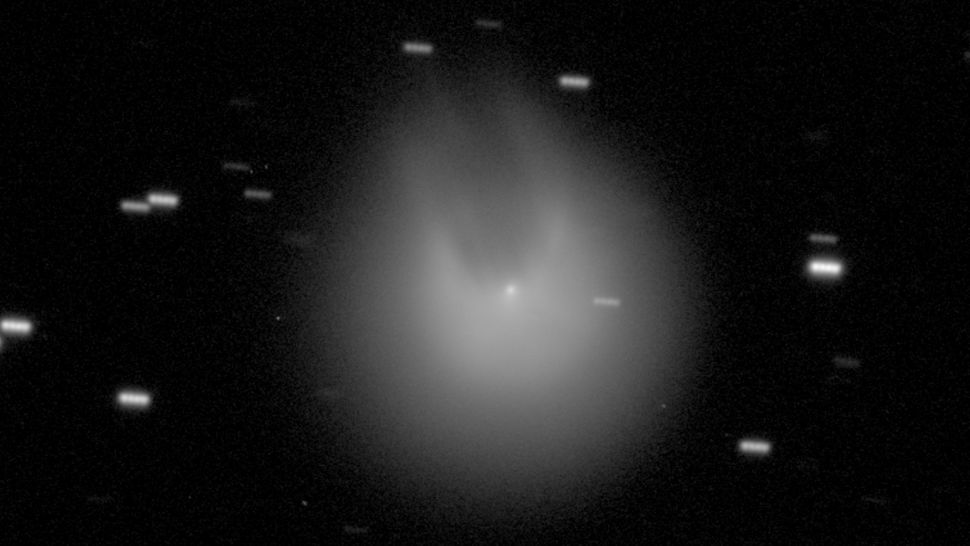 The comet's horns are the result of an irregularity in the shape of 12P's nucleus, says astronomer BAA Richard Miles previously told Live Science. The outflowing gas is likely partially obstructed by a protruding notch on the core, he said.
It is not yet clear why the horns disappeared. But the frequent eruptions may have destroyed the notch that blocked the flow of cryomagma. In the third Halloween flare, the horns were much less distinct than in the first two flares, suggesting that the notch may have already been damaged after the comet's first two outbursts.
Astronomer and amateur photographer Eliot Herman, who has been taking daily photos of the comet since its first eruption, told Live Science that he was surprised when the coma expanded without sprouting its horns and that he doesn't know if they will make another appearance in the future. "The devil may be gone (for good)," he said.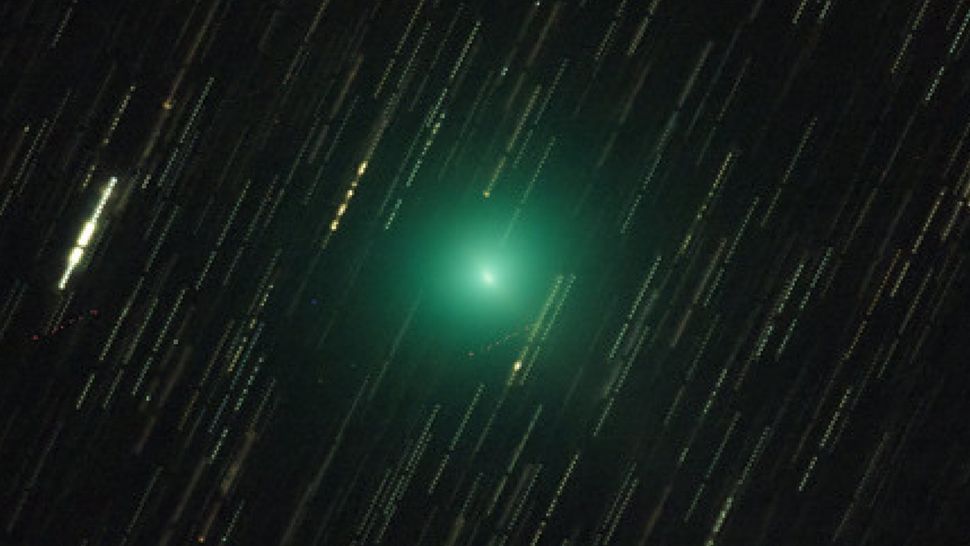 Herman's images also revealed another surprise: a green tint in the comet's coma. This rare coloration is emitted by comets with high levels of dicarbon, a chemical that emits green light when broken down by sunlight, according to Scientific journal.
Several green comets have passed Earth this year, including the "green comet" C/2022 E3 (ZTF), which came closest to Earth for 50,000 years in February, and comet Nishimura, which flew over our planet for the first time in 430 years in September.
In follow-up images of the comet, Herman also noticed another strange dark spot in the comet's colorful comet, which looks like a curved space. But unlike the distorted dark pathway that previously gave the coma its horns, experts believe this unusual shape is a shadow cast by flowing cryomagma, according to Spaceweather.com.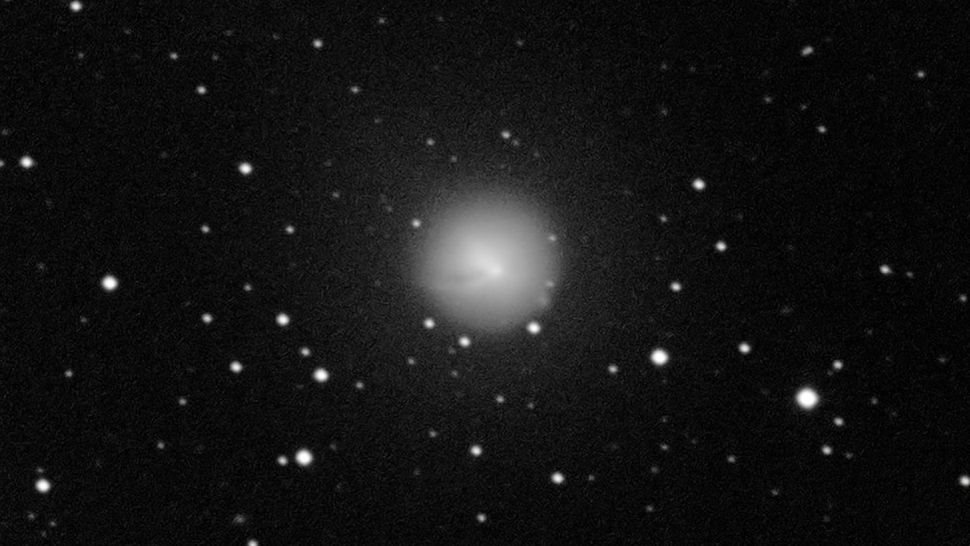 12P is currently heading toward the sun at about 40,000 mph (64,300 km/h) as it nears the end of its 71-year orbit around the sun, according to Live Science's sister site. Espace.com.
On April 24, 2024, the comet will reach its closest point to the sun, or perihelion, before being flung around our home star and into the outer solar system where it spends the majority of its orbit. It probably won't return to the inner solar system until 2094.
12P will make its closest approach to Earth on June 2 next year, when it will hopefully be visible to the naked eye.